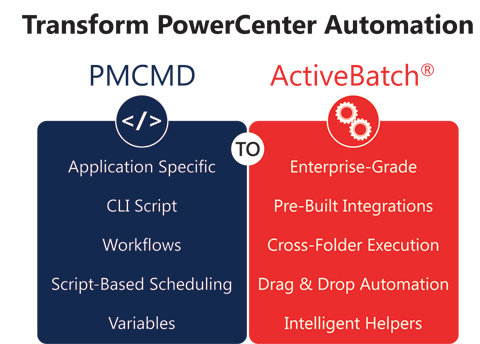 We had the opportunity to talk with many PowerCenter users at Informatica World in Las Vegas in May and they shared a lot of information about their IT Automation requirements, at the application and enterprise level, and how it could be improved. Application vendors, as we have previously addressed in our earlier posting, focus their resources (money and time) in developing the core capabilities of their products rather than enhancing their solutions with a robust automation system necessary to address today's business and operational requirements.

PowerCenter, as presented by Informatica, offers industry leadership in "…converting raw data into information to drive analysis…" which is consistent with the premise that too often the vendors of these critical applications require their users to identify alternative approaches to address the automation tools included by the vendor.

PMCMD Automation: Boundaries Identified
To automate PowerCenter workflows many attendees indicated that they use PMCMD, the command line utility for managing the automation of ETL workflows included with PowerCenter, to perform the basic tasks of manipulating, starting, stopping and scheduling workflows, tasks and sessions. However, the expressed concern was that in order to address today's changing business and operational requirements, they often supplemented PMCMD with custom script creation to fill the voids. They also clearly understood that scripting ratcheted up the complexity level of their IT environments not to mention the increased costs when using limited but expensive senior development resources to build and then maintain these scripts.

The Downside to Custom Scripts
Custom script generation requires senior level resources to build a script that augments what PMCMD can't readily provide when more sophisticated capabilities are needed. Once the custom script is written, the time and effort moves to testing and debugging which takes significant time as well as significantly impacting associated costs. Over time, the requirements change and scripts have to be maintained. If the developer has changed positions or left the firm it becomes problematic to identify individuals who want to step in, take responsibility for script modification and ongoing testing. Costs go up and limited "expensive" resources are consumed and focused on maintenance rather than on developing new processes to meet IT and business requirements.

Simplifying "End-to-End" Workflow Creation
At Informatica World, we heard and discussed how the use of an enterprise automation solution using pre-packaged integrations with critical third-party applications, like PowerCenter, could simplify and automate existing and new workflows and expand them into "end to end" workflows that could be used to generate analytics after the data had been integrated.
A sampling of the limitations with PMCMD that users shared and asked about were:
Read More